Tiara Flat-Slim-Zero
FOLDING GLAZING SYSTEM - TIARA FLAT/SLIM/ZERO

Next Generation Balcony Glazing System Tiara, makes your balcony a useful room for your house.


The system has been developed to be used easily for years without requesting any technical service. To get an idea about how to use it, watch the video now. In malls, restaurants, cafes, and offices, wherever you need a flexible solution to keep your space free when it is opened up, as well as secure and visible when it is closed.
Fill out the form and we'll call you!
TECHNOLOGY OF TIARA
All-glass slide-and-turn-system
No parking station for panels required
8mm, 10 mm, 12mm, or 28mm thickness glass usage
Max. panel sizes: 800 x 2700 mm
Various opening options are available
Largely prefabricated, therefore short installation times
No vertical frames, save your panorama
External glass surfaces are easy to clean from inside
This products are tested and certified by approval independent testing institutes
Integrated (top&bottom) 2-point lock for child safety/burglar resistance
TIARA FLAT
The threshold height is 23.3 mm.
In passing area, ramp profile provides isolation and allows easy passing.
TIARA SLIM
The threshold height is 23.3 mm.
On balustrade systems, it provides maximum panoramic view with less aluminium profiles.
TIARA ZERO
The threshold height is 7.3 mm.
It provides free passing by using embedded rail profile.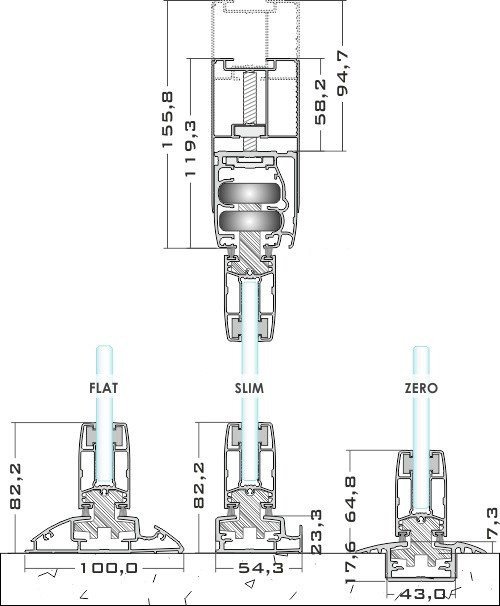 HOW DOES IT WORK?

Tiara system is a Sliding Folding System. The panels slide on the rails with the help of the top and bottom rollers. All the panels can be folded and stocked in the right or left side. In open position, the panels are positioned perpendicular to the rail profile.
Difference
Options
Comfort
Technology

Warranty

Albert Genau provides a 2-year warranty for the system includes system operability, aluminum profiles, and all accessories.

European Patent

The patent which has been granted by European Patent Office, is valid in 38 European countries that includes Germany, France, and Italy.

Pfb Certificate

Tiara Balcony Glazing Systems have been tested according to the norms stated by European Union and ranked high classes.

Anti Corrosion

Albert Genau hardwares have been manufactured with 100% stainless metals and under guarantee for 10 years.