Golden Plumb to Albert Genau for the Innovation!
29 December 2021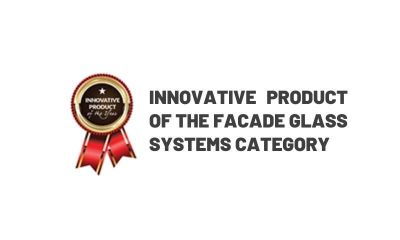 Albert Genau Won The Innovative Product of the Facade Glass System Award!

Vertiflex All-Clean / Tambalkon®, a new and patented product of the global brand Albert Genau, has been selected as "Innovative Product in Construction". As Albert Genau operates in balcony glazing systems and has been leading the sector with its fashionable designs for 37 years, it is an excellent pleasure within the sector's context.
Under the first and one material catalogue of BUILDING CATALOGUE in Turkey, "GOLDEN PLUMB International Building Catalog Awards" has been repeated in 26th times this year. With the contribution of international jury participation and more than 10.000 Architects Rating Agreement of the INNOVATIVE PRODUCTS category, Vertiflex All-Clean has been awarded the INNOVATIVE PRODUCT OF THE FACADE GLASS SYSTEMS CATEGORY.
Albert Genau has designed static, mechanical and kinematic glass systems in over 60 countries and has created minimalist and trend-setting designs with 37 years of research and development experience; launched the new and patented Tambalkon® system March 2020.
Adil Işıldak, a CEO of Albert Genau, as the Vertiflex All-Clean had been designed considering the ease of installation and customer satisfaction, this consequence is a great pleasure. In other words, this prestigious award proves that Vertiflex All-Clean meets the demand of the construction industry within the abovementioned matters.
"In addition to our existing glazing systems, Vertiflex All-Clean, which has a fully automatic operating principle as a result of our research and development work for about two years. Thus, we continue to make a difference in this sector." Unlike ordinary glass balcony systems, this system's panoramic glass panels can be used either open or closed with a remote control or cell phone, without the user's need. This situation will be a priority choice within the context of "new normal". Thus, it will be one of the top criteria while buying a home.
As it implies with the system's name, Vertiflex All-Clean can be quickly and safely cleaned without dangling or climbing stairs. As panels can be turned into cleaning mode, the cleaning process is easy and beneficial for people who preserve the social distance in these challenging days. Additionally, Vertiflex All-Clean offers a chance to a new and different environment as it is up to 5 times the insulation compared to single-glazed balconies and air-water and wind insulation. Thus, thanks to the Vertiflex All-Clean, Albert Genau tries to touch people's lives positively within social distance circumstances.
Consequently, this product has already been exhibited for more than 250 manufacturer-dealers in Turkey along with more than 60 countries, in particular, European countries at the same time.
(p.s.) Albert Genau previously won the innovation award from Anatolian Brands about the Heat Insulated Facade Glazing System.
For more information to explore this innovative product, please click the link!
https://www.albertgenau.com/en/27582/VertiFlex-ALL-CLEAN-Climatic-Facade-System